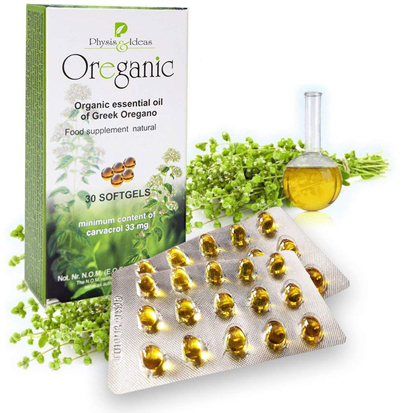 30 Softgels Hygiene Pack - 80% Carvacrol - Candida Cleanse  Immune Support -  Candida Support - Greek Oil of Oregano Natural Antibacterial Antioxidant & Anti–fungal
ΕAN CODE: 5200131250014
QUALITY AT THE HIGHEST LEVEL: Made from Highest Quality ORGANIC Mediterranean - Greek Oregano [origanum vulgare app hirtum] & extra virgin olive oil. The Scientific formula behind "Oreganic" Oregano Oil Antioxidant Supplement is including only the best natural ingredients: Non GMO, No chemicals, No additional salt, sugar, sodium, soy, wheat, dairy, Gluten Free. They are also free of artificial flavors, sweeteners, colors, and preservatives.
IMMUNE SUPPORT ANTIVIRAL & ANTIBACTERIAL: The essential oil of Oregano is an excellent medicinal "natural antibiotic", with powerful antiviral, antibacterial and antioxidant properties. Immune System Booster Ideal for Yeast Cleanse Candida Cleanse & Candida Support. The Organic oregano oil pills are the most efficient Bacterial Killer & Fungus Killer with no side effects on your health. Also, Studies have shown that oregano oil helps to support healthy intestinal flora & overall intestinal health 
EVERY DAY HEALTH SUPPORT: Each "Physis & Ideas - Oreganic" oil of oregano capsules contains at least 33mg carvacrol corresponds to 43 mg oregano essential oil per capsule. Carvacrol content is above 80%, whilst its percentage in thymol is low: below 3,5%, making the proportion of phenol ingredients (carvacrol and thymol) both effective and safe for Every Day Usage. Encapsulated in easy to swallow oregano pills. There is no burning in mouth or throat when swallowed. Each package contains 30 Softgels Hygiene Pack. The best package to keep them always clean & fresh. Easy to keep them every day with you.
NATURAL ANTIOXIDANTS: Oregano is one of the richest herbs in antioxidant substances which protect cells from degenerating. It neutralizes free radicals, thus slowing the aging process. It can also be a better source of dietary antioxidants than many other food groups, including fruit, vegetables, and cereals. "Oreganic" oregano oil capsules organic, contains also a significant amount of valuable constituents with naturally occurring antioxidant phytochemicals.
PHYSIS & IDEAS: The "Physis & Ideas" as manifest by its name composed of two Greek words known the world over, is a new Greek company founded by people with years of experience in dealing with the herbs of the Greek nature, their essential oils and particularly oregano. Being already aware of the scientific research conducted by universities on the healing properties of the essential oil of oregano & registering the ever impressive and numerous empirical reports of the beneficial effects on the health of people who used it in Greece, USA, Australia Germany & others, Physis & Ideas became actively involved in order to bring out the best version of the product.
Actual Description
Organic Oregano Oil Capsules Blister - 30 Softgels Hygiene Pack - 80% Carvacrol 
Formulated with
100% Pure Greek Essential Oil of Oregano and Organic Extra Virgin Olive Oil
Directions
As a dietary supplement for adults, suggested one (1) softgel daily, preferably at mealtime, or as directed by a healthcare practitioner.
The Quality of Greek Oregano (origanum vulgare app hirtum) is considered the best worldwide.
The essential oil of Oregano is an excellent medicinal "natural antibiotic", with powerful antiviral, antibacterial and antioxidant properties
Oregano is a herb mainly found in Mediterranean. It's known for its culinary uses, but mostly for its medicinal properties. Its name means "Joy of the mountain" in ancient Greek and it was a symbol of happiness & well being in antiquity. This magnificent aromatic herb is widespread throughout Greece, even on the driest, weather-beaten mountains & islands, from Macedonia to the Peloponnese and Crete.
Oregano oil can be used to help with all sorts of ailments:
Bacterial infections
SIBO
Dysbiosis
Ear infections
Yeast infections
Urinary tract infections
Sinus infections
Bug bites, rashes, and even poison ivy
 
"Oreganic" Softgels are Made from a Soft Layer of Gelatin that is Very Easy to Swallow. They are Stable, Completely Sealed in two separate hygiene blisters of 15 softgels in each pack thus Carry a Longer Shelf Life When Compared to Liquids and Capsules.
Expiration Date and LOT No as stated on the Softgel blister card (LOT: L010116 EXP:01/2019.