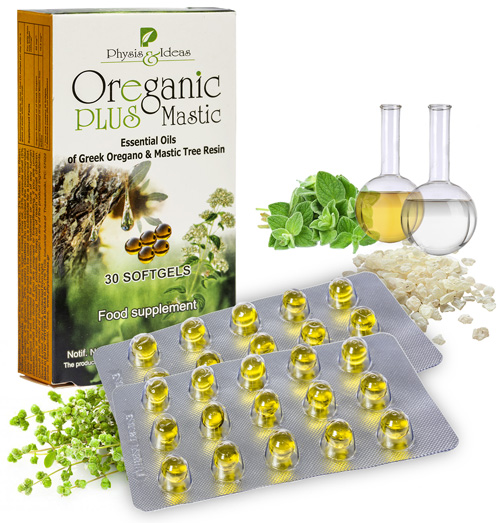 OREGANIC PLUS MASTIC comes in soft capsules containing a combination of suitable doses of organic essential oil from select, biologically certified Greek oregano [origanum vulgare spp hirtum] and essential oil from select Greek mastic [Pistacia lentiscus var. Chia] in organic extra virgin Greek olive oil. This combination is an innovation.

The essential oil of Greek oregano is extracted solely through steaming, without chemical solvents. It is certified organic by a certification body recognized by the European Union.

OREGANIC PLUS MASTIC is a magnificent natural supplement, and it can help your organism function better on all levels.

The revolutionary synergy
Organic Greek oregano essential oil has an exceptionally high carvacrol content (above 80%), while its percentage in thymol is low (below 3,5%), making the proportion of phenol ingredients (carvacrol and thymol) both safe and effective.

Carvacrol is the main component that plays the most significant role in oregano oils' action. According to an article published in the US National Library of Medicine

"Carvacrol (CAR), a natural monoterpene particularly abundant in plants... has recently attracted much attention for its many biological properties (antioxidant, anti-inflammatory, neuroprotective, antitumor, antibacterial, and several others)"
On the other hand, the essential oil of Greek mastic contains high percentages in the acid fraction components, making it of exceptional quality and effectiveness.

Chios Mastic gum is recognized for its precious properties from European Medicines Agency, and recent studies open the horizon of this "health gold" as is pointed in the US National Library of Medicine's article "Chios mastic gum inhibits influenza A virus replication and viral pathogenicity":

"Chios mastic gum (CMG), a resin of the mastic tree (Pistacia lentiscus var. chia), has been used to treat multiple disorders caused by gastrointestinal malfunctions and bacterial infections for more than 2500 years. However, little is known about CMG's antiviral activity".

Oregano and Mastic Oil's interaction gives a unique flourish to their particular properties, a kind of multiplication of their benefits. And the blister package offers comfort and hygiene that jars and bottles can't provide.


Details for usage and precautions

OREGANIC PLUS MASTIC is a magnificent natural supplement, and its use daily offers antioxidant protection and a constant boost to your immune system. It helps digestion and strengthens your digestive system.

One soft gel per day after the meal is a good habit for regular days. You may increase up to 3 softgels (one on breakfast, one on lunch, and one on dinner) if there are symptoms of getting cold and only for 1-3 days.

Furthermore, if you can stand the causticity on the mouth, you may improve your oral hygiene by breaking the capsule, rinsing with water, gargling, and swallowing. The intense taste lasts only for a few minutes.

OREGANIC PLUS MASTIC is especially useful:

a) During periods of increased risk of infections and germs (autumn, winter, spring), of low temperatures and high humidity, and

b) In areas where the risk of fungal and viral infections is high, for people frequenting crowded places (gyms, pools, beaches, and others) or with increased infection risk (schools, hospitals, and others).

Caution: Oregano essential oil is caustic, and therefore the capsules are for swallowing with the help of a glass of water.

Taking OREGANIC PLUS MASTIC should be avoided:
1. If you are allergic to oregano (Labiates plants) or mastic and
2. If you are pregnant or breastfeeding.

People with low levels of iron in their blood are advised to take it for a long time, after informing a doctor, and only 2 hours before or 2 hours after meals.

 STUDIES AND ARTICLES FROM UNIVERSITIES AND MEDICAL PORTALS