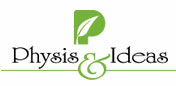 The "Physis & Ideas" as manifest by its name composed of two Greek words known the world over, is a new Greek company founded in Thessaloniki by people with years of experience in dealing with the herbs of the Greek nature, their essential oils and particularly oregano.
The company Panorama Ltd. which owns the distillery of the essential oils in Cherso Kilkis also participates in "Physis & Ideas". The steam distillation operates exclusively without the use of solvents - chemicals.
By "Physis & Ideas" we want to highlight the advantages and the food worthy of Greek natural products and share it with people from around the world with corporate openness in the international environment. So our concern is the creation of excellent quality Greek products from carefully selected suppliers and stringent quality control criteria based on international standards Quality Systems.
In "Physis & Ideas" as a company with the aim of presence at the international level, we respect the diversity of cultures, without losing the Greek values ​​and traditions that characterize us. We are looking for the right people to grow with them and grow with us. As part of our development plans, we offer cooperation opportunities in Greece and Cyprus but also abroad.
For the creation of OREGANIC
Being already aware of the scientific research conducted by universities on the healing properties of the essential oil of oregano (oregano oil) and registering the ever impressive and numerous empirical reports of the beneficial effects and the natural health of people who used our organic essential oil of Greek oregano both in Greece and abroad in countries such as the USA, Australia, Germany, and others, we became actively involved, in order to offer you the best possible product. 
A common issue with most existing forms of the product in the market was that even a drop of essential oil of about 30 mg corresponds to approximately 1.000mg of oregano, so, receiving it directly (even in diluted form), entailed causticity and strong smell, which many people could not bear it and found hard to use.
There was a need for a product that would solve these problems. OREGANIC is the product. 
But we've gone further...
Our ongoing study of Greek plants led to a discovery: oregano essential oil interacts exceptionally well with the essential oil of another Greek product: Chios mastic!
Chios mastic comes from the mastic tree's resin and is an ancient legacy for nutrition and health. In recent years, however, its verified nutritional and therapeutic value has been rediscovered, confirmed by several studies, and recently recognized by the European Medicines Agency.
We have discovered that oregano oil gives the maximum results with mastic oil, i.e., what characterizes their beneficial action is multiplied by their combination (1 + 1> 2). Both oils are potent due to their high content, so we came to the right daily usage ratio for enjoying their multiple benefits. And the result is a revolutionary wellness formula: Oreganic Plus Mastic